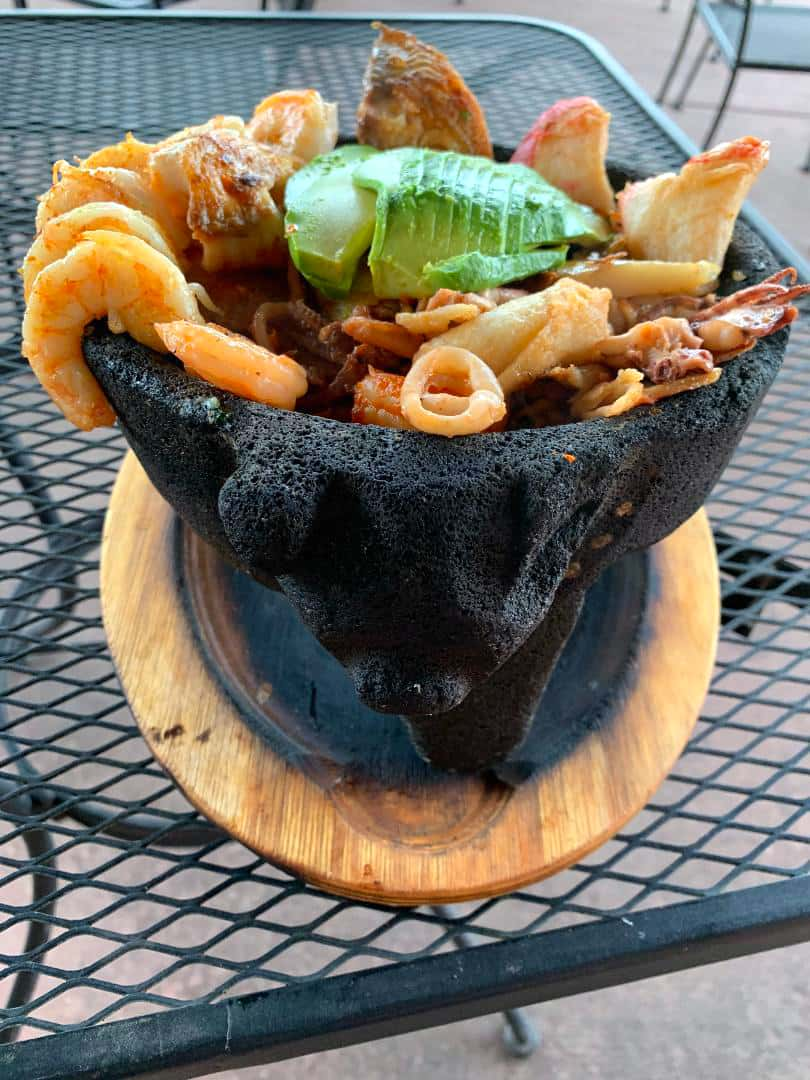 Menu
Become a VIP
Be the first to receive updates on exclusive events, secret menus, special offers/discounts, loyalty rewards & more!
Full Menu
Sopes
Specially made corn-flour (masa) cakes, lightly fried and topped with beans, lettuce, mild green tomatillo sauce, queso fresco, avocado slices, and drizzled with sour cream.
Guacmoles
BEST GUACAMOLE IN TOWN. ADD ONS: SHRIMP +6, PINEAPPLE +1.5
Nachos
ALL NACHOS ARE MADE WITH OUR FAMOUS WHITE CHEESE SAUCE
Fajitas
ALL FAJITAS ARE COOKED WITH ONIONS, GREEN AND RED BELL PEPPERS, SERVED WITH RICE, BEANS, LETTUCE, GUACAMOLE, TOMATOES, AND SOUR CREAM. CHOICE OF REFRIED BEANS OR BLACK BEANS
Chiles Rellenos
Local FAVORITE
Taqueria
ORDER OF THREE TACOS SERVED WITH RICE AND REFRIED OR BLACK BEANS / ADD GUACAMOLE 1.50 EXTRA
AMERICAN STYLE: LETTUCE AND CHEESE
MEXICAN STYLE: FRESH ONIONS AND CILANTRO
Make Your Own Combo
ALL MAKE YOUR OWN COMBINATIONS INCLUDE RICE AND BEANS. MAKE IT SUPREME FOR $1.29 EXTRA
Burrito - A flour tortilla wrapped around your choice of filling: beef of chicken
Burrito Deluxe - A flour tortilla wrapped around your choice of filling: beef or chicken and topped with salad and sauce
Tostada - Flat crispy corn tortilla with beef, lettuce, tomato and cheese
Chile Poblano - Whole poblano pepper with cheese, topped with eggs and ranchero sauce
Enchilada - A corn tortilla rolled around beef and covered with our special Mexican sauce
Quesadilla - Grilled tortilla filled with cheese and your choice of beef or chicken
Hard Taco - Crispy folded corn tortilla filled with beef, lettuce and cheese
Super Taco - Large crispy flour tortilla filled with beef, lettuce, tomatoes, shredded cheese and sour cream
Tamale - Savory pork meat filling screamed and corn meal (masa) casing
Lunch
SERVED BETWEEN 11A:00 M AND 2:00 PM | MONDAY THROUGH SATURDAY, TRY OUR FAMOUS MARGARITAS

New!
*Notice: Foods cooked to order, consuming raw or undercooked meats, poultry, seafood, shellfish or eggs may increase your risk for food borne illnesses, especially if you have certain medical conditions. To our guests with food sensitivity or allergies: La Hacienda Mexican Restaurants cannot ensure that menu items do not contain ingredients that might cause an allergic reaction. ADD CHEESE SAUCE 2.50
paper background